THE COMPLEAT WORKS
[misprint]

OF IVOR BIGGUN
Now on general release and available here.
The price is £20.00 plus the UK shipping which is £3.50. A bargain!
Payment is through Paypal or major credit cards (administered by Paypal)
This button below is UK only. For overseas sales please select the appropriate link.
Click on the links below for worldwide shipping zones. The postage is somewhat exorbitant unfortunately…
Use this link for sales to the EU.
Use this link for sales to ZONE 1 including South Africa and SE Asia.
Use this link for sales to ZONE 2 including Australia, New Zealand, South America and Singapore.
Use this link for sales to Zone 3 – United States of America
The box set of 5 CD's contains the following albums and a 52 page booklet with a track-by-track commentary and photos from Ivor's archive.
CD1 – THE WINKER'S ALBUM [misprint]
Ivor Biggun Is My Name
The Winker's Song [misprint]
Sing A Mucky Song
No! No! No!
Hello My Baby
I Wish I Was
I'm Shy
Graffiti Night Fever
I've Parted [misprint]
Cucumber Number
Great Grandad John
Underground Music
My Brother's Got Files [misprint]
The Winker's Paradise [misprint]
The Charabanc Trip (Humorous Monologue)
BONUS TRACKS
The Winker's Song [misprint] (Karaoke Instrumental)
The Winker's Rock 'n' Roll [misprint] (Demo)
Hide The Sausage (Rap Version)
I Lift Up My Finger (And I Say Tweet Tweet)
Jeremy Is Innocent
Johnny G Fan Club Song
Ivor and Nick On TV


CD2 – MORE FILTH! DIRT CHEAP!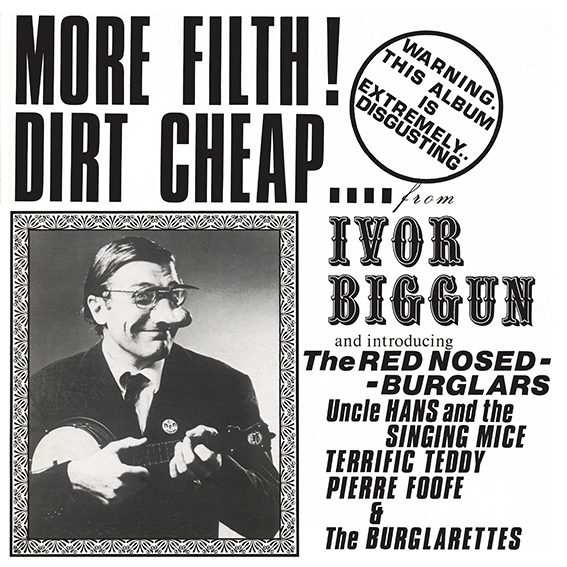 The Cockerel Song
My Shirt Collar (It Won't Go Stiff)
Southern Breeze
A) The Burglars' Holler / B) Gums And Plums
John Thomas Allcock
I Have A Dog, His Name Is Rover
My Brother's Magazine
Richard The Third (He's In The Business Now)
Walking Your Blues Away [misprint]
Are "Mice" Electric?
I Can Be The Hot-Dog And You Can Be The Bun
I Wanna Be A Bear
Ah Woke Up Dis Moanin' PART 1 Terrific Teddy Sings The Blues / PART 2 Ah Feel So Bad
The Filthy Farmer (A Song Of The Soil)
The Other Educated Monkey (Humorous Monologue)
BONUS TRACKS
Bras On 45 (Dirty Gertie Version)
The Winker's Rock 'n' Roll (Remix)
Send For Dr. Clap
Hide The Sausage (Original Version)
CD3 – PARTNERS IN GRIME
(Let's All) Hide The Sausage
(Nobody Does It Like) The Ukulele Man
Chantilly Lace
Halfway Up Virginia
The Pussy Song
Probing Andromeda
The Majorca Song
Sixty Minute Man
Toolbag Ted From Birkenhead
Where Did The Lead In My Pencil Go?
Cue For A Song
I've Got A Monster
BONUS TRACKS
Gums And Plums (Live at The Swan)
John Thomas Allcock (Live at The Swan)
Cucumber Number (Live at The Swan)
The Winker's Song [misprint] (Live)
Where Did The Lead In My Pencil Go? (Kazoo Version)
Let's All Get Demented
Ploughman's Lunch (Live)
Alpha Pets Jingle
The Pussy Song (Demo Version)
Supreme Cat Show Advert

CD4 – HANDLING SWOLLEN GOODS
The Winking Caveman [misprint]
Dorothy Please Trim Your Hinge [misprint]
The Premature Ejaculation Waltz
Down By The Riverside
The Yodelling Winker [misprint]
All Of These Things Are Soul
Ukulele Lady
Two Thirds Of Four Fifths
The Son Of John Thomas Allcock
My Baby Loves My Yorkshire Pudding
Bonkola (Ft. The Mighty Judge Dread)
You Can't Have A Shag With A Snowman
All I Want For Christmas (Is a Great Big Dong)
The Sailors In The Gents (Humorous Monologue)
BONUS TRACKS – Live in Croydon
I Feel Like Winking [misprint]
Ivor Biggun Is My Name
Cats On The Rooftops
I'm Looking Over A Four-Leaf Clover
The Filthy Limerick Mambo
I Have A Dog His Name Is Rover
The Winker's Song [misprint] (Rotten Version)
The Winker's Rock 'n' Roll [misprint] (Live Rowdy Version)


CD5 – SOMETHING OLD, SOMETHING NEW, SOMETHING BORROWED, MOSTLY BLUE
Girls Come And Get Me (Don't You Hesitate)
On The Good Ship Winky Wanky Woo
The Majorca Song (Just-About-Broadcastable Version)
Put Some Ukulele In Your Day
Mansfield Fm Introduction /The Winker's Song [misprint] (Original Mono Single)
Ukulele Lady (Backing Track)
The Ballad Of Big Jesse
I Feel So Bad (Live)
Ivor Biggun Is My Name (Live)
The One With The Stops (Live)
Send For Dr. Clap (Live)
Piles Of Trouble
No! No! No! (Rehearsal)
Skanking And Wanking
The Baker's Boy And The Chandler's Wife (Live)
Pleasant And Delightful (The Melodeon Song) (Live)
My Grandfather's Frock The Captain's Message / You Can't Have A Snog With A Snowman
Christmas Makes Me Spew
Rudolph Did A Whoopsie On My Rooftop
Give Us A Wank For Christmas
Miss Sadie Bends